MICRODERMABRASION EXFOLIATING TREATMENT
REVIDERM Skin Peeler
Gentle & intensive peeling for smooth and radiant skin.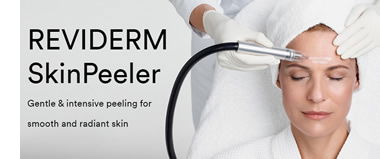 Make your skin glow - with microdermabrasion. The medical term refers to an efficient intensive peeling with microcrystals. The completely painless procedure visibly refines your pores - for a smooth and delicate skin texture.
Thanks to the deep-acting and at the same time particularly gentle method, you can successfully treat
light and age-damaged skin
overly keratinised skin
pigmentation disorders
impurities
This is how you bring your stressed skin back into balance.
---
Microdermabrasion with the SkinPeeler:
Skin care for immediately visible results
As a pioneer in the field of microdermabrasion, REVIDERM has perfected the procedure and developed a state-of-the-art device: the SkinPeeler. With the SkinPeeler, your beautician can help you achieve healthy and beautiful skin in just a few steps:

The SkinPeeler gently removes horny cells in a controlled manner. During the treatment, microcrystals are blasted onto your skin at high speed and then removed again by vacuum. Your skin is freed and can breathe again.




After microdermabrasion, your skin is optimally prepared for REVIDERM dermocosmetic products: Highly efficient active ingredients penetrate deep into your lowest skin layers. They stimulate your tissue to produce collagen and elastin -your skin regenerates as if by itself.




Immediately after the treatment, your skin is noticeably firmer, smoother and finer. Wrinkles appear reduced - for a youthful and fresh appearance.



---
Treatment Procedure:-
The skin renews itself about every 20 days or so. This generally slows down after the age of 30, becoming less efficient. Exfoliation helps to remove dead skin cells improving the skin's texture, revealing a healthy glowing complexion.
Microdermabrasion Exfoliation is a Non-Surgical treatment for anti-ageing, regeneration and a whole host of skin indications.
The treatment removes dead skin cells sending a signal to start the creation of new cells. Immediately the skin becomes smoother and feels and looks fresher. Active agents in cosmeceuticals applied post-treatment are much more easily absorbed.
For 'you' the client, there is an instant, demonstrable improvement in skin tone and appearance. The system uses a hand held Wand which delivers tiny crystals onto the skin at relative high velocity where they are immediately vacuumed away taking with them the top-most layer of dead skin cells. The used crystals and skin cells are collected in a separate container for disposal.
This process improves the tone and texture of the skin revealing new living skin cells that are soft and smooth. This stimulates the underlying epidermis promoting new collagen, thickening the dermis whilst improving resistance to the effects of aging.
A cleansing milk is applied which thoroughly removes dirt particles, make up and other impurities deeply cleansing the skin surface.
Enzyme peeling liquid is rubbed over the skin and absorbed. The enzymes dissolve and remove old callous cells remaining too long in the stratum corneum (top layer).
A light layer of enzyme peeling paste is applied to the skin, which dries in a few minutes. This loosens any bond of callous cells but does not decrease moisture.
The skin prep is applied before the Microdermabrasion treatment begins. It disinfects and dries the skin to prepare for treatment.
The Microdermabrasion machine blows crystals onto the skin and removes the horny cells. The used crystals and horny cells are immediately vacuumed into the used crystal container creating a small suction on the skin.
After this part of the treatment the next steps are individually adjusted for each clients individual needs.
---
Benefits of Treatment:-
Vacuum & Crystal controls are flexible allowing tailor made treatments for individual client needs.
The treatment is available for All skin types, young or old, male & female with no recovery time needed post treatment
Does not usually require a preparation prior to treatment
Following treatment, the skin is in a better condition to absorb anti-ageing and acne creams
The long term benefits of multiple treatments are accumulative and can be remarkable
Prevents early signs of aging
Results are Instant
Reveals your natural radiance and luminosity and may easily be incorporated into a beauty regime
---
Treats the following Skin Conditions:-
Fine lines and wrinkles
Sun Damaged Skin
Acne Prone Skin
Blackheads
Whiteheads
Superficial Age Spots & Hyperpigmentation
Oily, Dry or Patchy Skin
Skin Aging
Stretch Marks
Cellulite
Scarring. Your first treatment usually lasts around 60 minutes including a consultation. Future treatments last around 45 minutes. Several treatments are recommended for best results
---
Contraindications:-
Treatment is unavailable to anyone with the following conditions.
Psoriasis
Atopic Eczema
Skin Cancer
Diabetes
Sunburn
Moles
Taking Isotretinoin
Please check with our Skin Care Technicians if more information is required.
To book this service please "click here"